Project:

Diagnosis and study of phytoplasma diseases in main agricultural cultivations of the State of Baja California Sur




Specific problem to be solved:
Phytoplasma is a very severe pathogen and little known by Mexican producers not only from our State, but also from other states that produce vegetables, fruits, and other important cultivations. In our state the presence of phytoplasma has been confirmed in papaya, chile, tomato, cucumber, basil, and some wild plants during our studies in the last 3 years.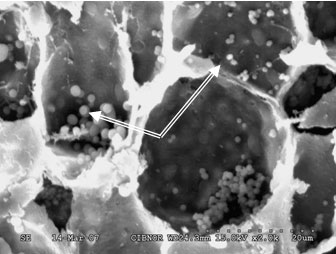 Phytoplasms (shown by the arrow) in red pepper phloem.
Phytoplasma diagnosis and study of its possible vectors is a high priority matter in the state of BCS to comply with the demands of sustainable agriculture, both conventional and organic systems.
The work includes two general aspects: study of the disease and study of the pathogen.
Monitoring diseases in the field: symptomatology, severeness, incidence.
Study of pathogen epidemiology: wild-reservoir plants, ways of transmission (insects).
Phytomplasma diagnosis applying several techniques:


Indexation of infection symptoms in greenhouse
Phytoplasma detections in phloem tissuess of infected plants with the use of a sweeping electron microscope

Identifying phytoplasma with molecular biology methods
Written by Dra. Poghosian Melkonyan Arevik
Last Updated on Thursday, 02 May 2013 12:00