Project:

Underground water




Underground water that flows in the coastal area has acquired great importance worldwide because of its natural supply of excess nitrogen and phosphorous, with consequences on coastal marine water quality.
Underwater flow can contain organic matter filtered in the subsoil through direct discharge of sewage water or by infiltration in agricultural areas, also turning into pollution vectors to the coastal area. This contribution is not exclusive of wet or tropical regions, but seems to be present in arid or semi-arid areas where there is no information at world level, which is why it becomes more relevant.
This research is focused on estimating underwater flow using Radon 222 (222-Rn), an inert gas, as indicator (life average of 3.8 days), which is contained naturally in underground water and absent in sea water.
This proposal is directed to assess the geological and hydrological characteristics of underground water in arid areas, its discharge process in the coastal areas, its importance in the biogeochemical cycle of coastal lagoons, and the quantification of nitrogen contributions in open sea coastal fronts.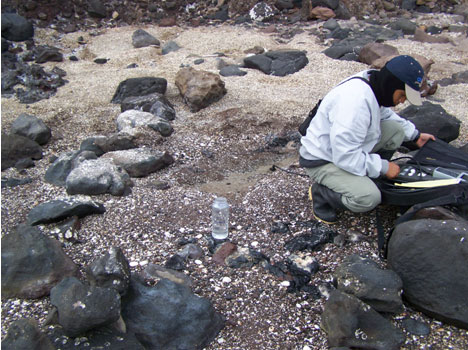 Radon 222 and physical-chemical measurements of an exit site of fresh underground water in Bahía Concepción.
Photo from Project file.
Written by Dr. Carlos Lechuga Devéze
Last Updated on Wednesday, 24 March 2010 12:50