Project: Monitoring a restoration program of coral reef affected by the tank ship Lázaro Cárdenas II and reef communities of the Loreto Park area in Baja California Sur


This project started after the PEMEX tank ship Lázaro Cárdenas II was stranded in a reef area near Isla Espíritu Santo, B.C.S., destroying close to one hectare of coral. After an initial stage of damage diagnosis, determining urgent cleaning and restoration measurements, collaborating with PROFEPA, we finally reached the objective of this project, which is the monitoring stage of the restored coral reef system.
The project pursues to determine the tendency toward recovery, or not, of the impacted area and after its restoration in a period of 5 years. For this purpose, we used two approaches: structural and functional.
The structural approach tries to determine if there is a recovery tendency of the coral area. This is why seasonal monitorings estimate the artificial reefs (modules) which were set up in the impacted area, assessing survival, growth of the corals cemented in the modules, and recruiting rate of corals in the impacted area.
On the other hand, the functional approach focuses on fauna and flora associated to the restored area; and for this purpose we characterized, by means of subaquatic census, composition, density, and seasonal variation of the macrofauna associated to the impacted area specifically mollusks (winkles and clams), polychetes (polychete worms), crustaceans (crabs and shrimp) echinoderma (starfish and sea urchin), and fish, as well as the richness and cover of algae.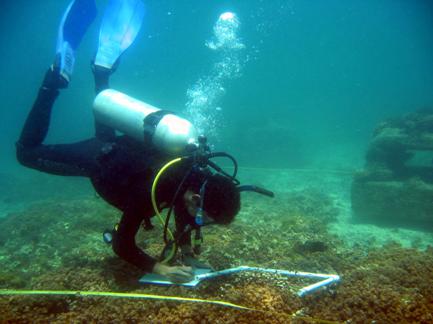 To estimate the changes that occur in the restored area as objectively as possible, it is necessary to compare the results with adjacent, close, and far control areas. This is why the activities are performed in several sites located in the bay of La Paz as in the bay of Loreto.
In general the results we have obtained up to date are positive in structural terms because the modules have maintained their integrity, about 70% of the cemented coral has survived and has grown in similar rates to other regions. We have also detected a high recruiting rate of corals of the genera Pocillopora and Porites.
In the functional approach, we only have a differential use of the restored and surrounding areas because of the different groups of organisms, and because the dispersion speed of the organisms as well as habitat requirements are specific and are temporarily modulated by the environmental dynamics of each period.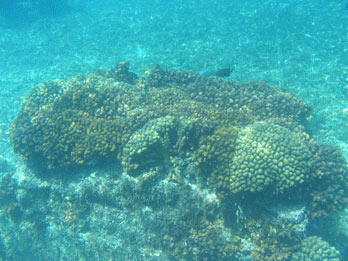 Written by Dr. Eduardo Balart Páez
Last Updated on Tuesday, 27 September 2011 09:25