Project: Relationship between socioeconomic and biophysical processes in coastal marine ecosystems of Baja California-NSF-Linking Human and biophysical processes in marine coastal ecosystems of Baja California
The project was designed to better understand the factors behind the performance of coastal fisheries located along the Pacific coast in Baja California Sur. The performance will be evaluated in terms of fisheries productivity, economic yield, sustainability of communities and human activities, and the persistence of marine populations and ecosystems.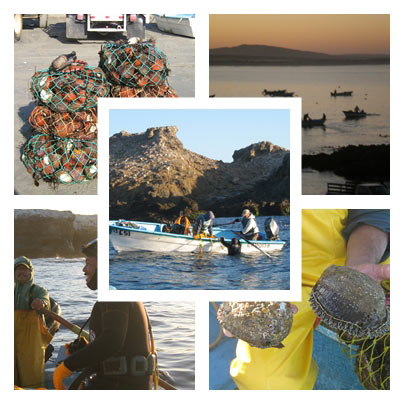 The project will specifically study the role that environmental variability (including variation in oceanographic conditions, variation in the natural environment and in history and organization of fishery communities) plays within fisheries performance, how these factors vary through space and time, and which fishery management systems can be better.
Research includes the development of different ecological and economical models; history review of the settlers and how they have related to fishing, and the gathering of new ecological and ethnographical information of the fishery communities located along the Pacific coast in Baja California Sur from the north of Bahía Sebastián Vizcaíno up to Bahía Magdalena.
Several Mexican and North American institutions participate in this project with particular functions and capabilities. The project allows us to develop human resources as graduate students in disciplines such as economy, ecology, and human ecology, besides exploring possible consequences of environmental changes (as climate change) and different management strategies and regulations (as the certification of lobster fishery in the Vizcaino peninsula performed by the Marine Stewardship Council) in this system.
With this project we will collaborate with the strategic objectives of the line of research by:
Generating a general ecological model that allows exporting experience and concepts generated in the study locations, a wider range of coastal marine ecosystems in general, and establish a point of ecological reference to assess and compare changes in the future.
Characterizing in detail not only timely but also integrally as to the groups of species and aspects (considered in the view of climate change and coastal ecosystem degradation), and in case the ecosystems are considered healthy at present, they can function as recovery objectives.

Written by Dr. Salvador Lluch Cota
Last Updated on Wednesday, 05 January 2011 14:09